➤
Access
Edcon lives and breathes steel… and a wide range of metals. We stock a huge range of aluminium, cast, brass, bronze, and copper. If you need round, flat, square or hex bars, tubes, sections, squares, sheets or any other option, we're confident we can help. If we can't help, we may even know who can.
We have Australia's largest range of metals online. Stocked items can be cut to size so you only pay for what you need, and we deliver Australia Wide (limited on larger orders). Edcon has 50 years' experience in the trade, we know metals inside and out. Our experienced staff can provide you with advice on the availability of metals for construction, boating, farming, mining or automotive projects.
We provide metals for major infrastructure, personal projects and everything in between.
To get started buying metal online, use our easy selector below for a quick quote, or if you need advice on metals, please feel free to get in touch.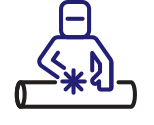 We can cut most of our steel products to size
Cropping, coldsawing, bandsawing & guillotining in house at all of our steel stores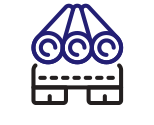 We'll package it securely
Once cut to size, we'll pack it safely so it makes it to you in perfect condition