Precision Ground
General
Precision ground stock - Gauge plates or drill rods - Silver Steel - items are usually machined in the annealed state and then can be heat treated to make hardened, long lasting tools. We have an ever growing inventory of ground stock (flat & round) which features more than 350 distinct stocked items which provide coverage for most ground flat stock applications. We stock standard grades of material AISI / SAE O-1 an oil hardening grade, which is the most common form. The chemical composition of all ground flat stock falls within ranges which ensures consistent performance of products in your application.
Characteristics
The chemical ranges and specifications met are typically
| | | | | | |
| --- | --- | --- | --- | --- | --- |
| Carbon | Silicon | Manganese | Chromium | Tungsten | Vanadium |
| 0.90 - 1.00 | 0.20 - 0.35 | 1.00 - 1.15 | 0.40 - .60 | 0.45 - 0.60 | 0.08 - 0.15 |
Percent (%) by weight of finished material. Test certificates are available* (* charges may apply)
Common Applications
O-1 tools steels are commonly used in :
Machine ways
Gages
Punches
Shear blades
Forming dies
Blanking dies
Shearing and trimming dies
Edcon Steel Tips
These items are only available in 1000mm or 500mm (or smaller for tool bits). We can cut these items to your size, if required, but you will need to purchase in these minimum quantities for these products.
Tool Bits cannot be cut on our saws - unfortunately they're too hard for our blades.
We have access to some of Australia's most comprehensive stocks or specialty and tool steels - chances are if you cannot find what you need - we can ! Send us you special or tool steel inquires Tool Steel Inquires
Surface Preparation and Coatings
Precision Ground refers to the unique and high quality surface finish of these products. Precision flat ground to 4 edges with machining allowance manufactured in accordance with factory standards means diameter or thickness and width are precision ground. Width may be ground or milled, length machined, with decarburisation-free surface, packaged with corrosion protection.
All Steel | All Precision Ground Steels | All 4140 Centreless Ground Round Bars | Home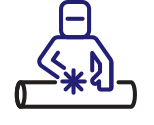 We cut all our steel products to size
You only pay for what you need. Just drop in for on the spot service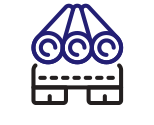 We'll package it securely
Once cut to size, we'll pack it safely so it makes it to you in perfect condition