➤
➤
Mild Steel Reo Bar Hot Dip Galvanised
General
Galvanized Deformed Reinforcing Bars are circular shaped solid steel bars with a ribbed profile along the length of the bar. This profile enhances the bonding of the steel to concrete when encased. The additional surface area of the bars and the dimpled effect increase friction and pull out forces of the bar. This profile of steel the go to for concrete reinforcing. Our metro branches stock a common range of galvanized mild steel reo bars in 500 grade mild steel. All these stocked galvanized reo bars can be cut to your sizes with no minimum size, so you only pay for what you need*. (* limits and cutting charges will apply)
Characteristics
Due to the wide range of applications of rebar reinforcement with ductility appropriate to earthquake-resistant concrete structures, coupled with recent investigations into the structural consequences of the relatively low ductility of cold-worked reinforcement, has led to the introduction of three ductility classes. These are distinguished in requirements by the letters 'L' (low), 'N' (normal) and 'E' (earthquake), placed immediately after the strength-grade number, corresponding with different minimum values for uniform elongation and maximum stress to yield stress ratio.
Common Applications
Galvanized Reinforcing Steel bars are specially designed to be encased in concrete where additional corrosion resistance is required, for use in :
Structural Reinforcing of Concrete slabs
Dowel pins for concrete repairs or joints
Edcon Steel Tips
Due to damage caused to the protective galvanized coating these reo bars should not be cut, formed & bent, threaded, or welded without considering
All Thread can provide similar increased pullout strength when encased in concrete.
Care needs to be taken to ensure there is ample cover of concrete over the steel to prevent rust of the encased concrete.
All our stores have a sleeted range of Reo Steel Bars in stock on the floor in 6000mm lengths.
Metro Stores also stock Hot Dip Galvanised Reo Bars for dowel pins and higher corrosion resistance applications.
Surface Preparation and Coatings
Reo Bars are stocked in a Mill Finish. Mill Finish is an uncoated, untreated finish which as the name suggests, as it comes from the steel mill. The surface will be dirty, may be contaminated, but generally will be free form oil or chemicals. The 500 grade mild steel flat bar will also, in many cases, have a mill scale - a thin flaky substance that is a by product of the hot rolling process.
All Steel | All Mild Steel | All Mild Round Bars | Hot Dip Galvanized Reo Bars | Home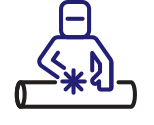 We can cut most of our steel products to size
Cropping, coldsawing, bandsawing & guillotining in house at all of our steel stores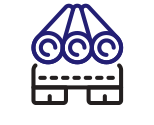 We'll package it securely
Once cut to size, we'll pack it safely so it makes it to you in perfect condition