➤
Mild Steel Rectangular Box (RHS) Hot Dip Galvanised
| Stock Code | Description | Dimensions (mm) | Standard Length (mm) | Kg per Unit | |
| --- | --- | --- | --- | --- | --- |
| GRHS.200.100.4 | 200x100x4.0RHS Hot Dip Galv | 200 x 100 x 4 | 12000 | 17.90kg | View Price |
General
Some Local Governments (Councils) require steel storm-water conduits or drainpipes to traverse pathways or other council property. Commonly 200x100mm Rectangular Steel Hollow Sections or Rectangular Steel Tube is specified for stormwater drainage pipes across the council footpath from the owners property to the kerb or gutter. Here at Edcon Steel we stock up to 12 metre lengths of 200 x 100 x 4 RHS for this specific purpose.
Characteristics
Most common council specifications will call for Steel pipe – minimum wall thickness 4mm. Hence we stock our 200 x 100 x 4 RHS in Hot Dip Galvanised finish, ideal for these applications and in longer lengths (some branches) to help with longer runs and diagonal crossings.
Common Applications
Stormwater Drainage pipe
Edcon Steel Tips
Consider cutting the drain pipe first from plain RHS and then sending the item to the Galvaniser after your RHS peice is cut to size.
Stock holdings will vary branch to branch, so be sure to contact your nearest branch before heading in to pick up this item.
Treatment of cut ends should be considered as the cutting process will break the galvanising protection of the steel.
Refer to the local government in your area for requirement specific to your site.
Surface Preparation and Coatings
This product is hot-dip galvanised in accordance with the Australian Standard for Hot-dip Galvanised (zinc) coatings on fabricated ferrous articles (AS/NZS 4680) both inside and outside.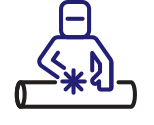 We cut all our steel products to size
You only pay for what you need. Just drop in for on the spot service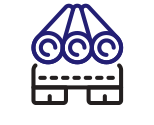 We'll package it securely
Once cut to size, we'll pack it safely so it makes it to you in perfect condition