➤
Mild Steel Pipe (Circular Hollow Section) Galvanised Mild Steel
| Stock Code | Description | Dimensions (mm) | Standard Length (mm) | Kg per Unit | |
| --- | --- | --- | --- | --- | --- |
| xlgpe.20 | 26.9x2.0 (20NB XLGPE) Mill Galvanised | 26.9 x 2.0 (20NB x LGPE) | 6500 | 1.28kg | View Price |
| xlgpe.25 | 33.7x2.0 (25NB XLGPE) Mill Galvanised | 33.7 x 2.0 (25NB x LGPE) | 6500 | 1.62kg | View Price |
| xlgpe.32 | 42.4x2.0 (32NB XLGPE) Mill Galvanised | 42.4 x 2.0 (32NB x LGPE) | 6500 | 2.07kg | View Price |
| xlgpe.40 | 48.3x2.3 (40NB XLGPE) Mill Galvanised | 48.3 x 2.3 (40NB x LGPE) | 6500 | 2.70kg | View Price |
| xlgpe.50 | 60.3x2.3 (50NB XLGPE) Mill Galvanised | 60.3 x 2.3 (50NB x LGPE) | 6500 | 3.40kg | View Price |
| xlgpe.80 | 88.9x2.6 (80NB XLGPE) Mill Galvanised | 88.9 x 2.6 (80NB x LGPE) | 6500 | 5.70kg | View Price |
| xlgpe.90 | 101.6x2.6 (90NB XLGPE) Mill Galvanised | 101.6 x 2.6 (90NB x LGPE) | 6500 | 6.53kg | View Price |
| xlgpe.100 | 114.3x3.2 (100NB XLGPE) Mill Galvanised | 114.3 x 3.2 (100NB x LGPE) | 6500 | 8.98kg | View Price |
| xlgpe.125 | 139.7x3.0 (125NB XLGPE) Mill Galvanised | 139.7 x 3.0 (125NB x LGPE) | 6500 | 10.37kg | View Price |
| lgpe.15 | 21.3x2.0 (15NB LGPE) Mill Galvanised | 21.3 x 2.0 (15NB LGPE) | 6500 | 0.96kg | View Price |
| lgpe.20 | 26.9x2.3 (20NB LGPE) Mill Galvanised | 26.9 x 2.3 (20NB LGPE) | 6500 | 1.44kg | View Price |
| lgpe.25 | 33.7x2.6 (25NB LGPE) Mill Galvanised | 33.7 x 2.6 (25NB LGPE) | 6500 | 2.05kg | View Price |
| lgpe.32 | 42.4x2.6 (32NB LGPE) Mill Galvanised | 42.4 x 2.6 (32NB LGPE) | 6500 | 2.63kg | View Price |
| lgpe.40 | 48.3x2.9 (40NB LGPE) Mill Galvanised | 48.3 x 2.9 (40NB LGPE) | 6500 | 3.33kg | View Price |
| lgpe.50 | 60.3x2.9 (50NB LGPE) Mill Galvanised | 60.3 x 2.9 (50NB LGPE) | 6500 | 4.21kg | View Price |
| lgpe.65 | 76.1x3.2 (65NB LGPE) Mill Galvanised | 76.1 x 3.2 (65NB LGPE) | 6500 | 5.89kg | View Price |
| lgpe.80 | 88.9x3.2 (80NB LGPE) Mill Galvanised | 88.9 x 3.2 (80NB LGPE) | 6500 | 6.93kg | View Price |
| lgpe.90 | 101.6x3.2 (90NB LGPE) Mill Galvanised | 101.6 x 3.2 (90NB LGPE) | 6500 | 7.95kg | View Price |
| lgpe.100 | 114.3x3.6 (100NB LGPE) Mill Galvanised | 114.3 x 3.6 (100NB LGPE) | 6500 | 10.04kg | View Price |
| lgpe.125 | 139.7x3.5 (125NB LGPE) Mill Galvanised | 139.7 x 3.5 (125NB LGPE) | 6500 | 12.01kg | View Price |
| mgpe.10 | 17.2x2.3 (10NB MGPE) Mill Galvanised | 17.2 x 2.3 (10NB MGPE) | 6500 | 1.10kg | View Price |
| mgpe.15 | 21.3x2.6 (15NB MGPE) Mill Galvanised | 21.3 x 2.6 (15NB MGPE) | 6500 | 1.25kg | View Price |
| mgpe.20 | 26.9x2.6 (20NB MGPE) Mill Galvanised | 26.9 x 2.6 (20NB MGPE) | 6500 | 1.62kg | View Price |
| mgpe.25 | 33.7x3.2 (25NB MGPE) Mill Galvanised | 33.7 x 3.2 (25NB MGPE) | 6500 | 2.49kg | View Price |
| mgpe.32 | 42.4x3.2 (32NB MGPE) Mill Galvanised | 42.4 x 3.2 (32NB MGPE) | 6500 | 3.20kg | View Price |
| mgpe.40 | 48.3x3.2 (40NB MGPE) Mill Galvanised | 48.3 x 3.2 (40NB MGPE) | 6500 | 3.68kg | View Price |
| mgpe.50 | 60.3x3.6 (50NB MGPE) Mill Galvanised | 60.3 x 3.6 (50NB MGPE) | 6500 | 5.18kg | View Price |
| mgpe.65 | 76.1x3.6 (65NB MGPE) Mill Galvanised | 76.1 x 3.6 (65NB MGPE) | 6500 | 6.61kg | View Price |
| mgpe.80 | 88.9x4.0 (80NB MGPE) Mill Galvanised | 88.9 x 4.0 (80NB MGPE) | 6500 | 8.58kg | View Price |
| mgpe.90 | 101.6x4.0 (90NB MGPE) Mill Galvanised | 101.6 x 4.0 (90NB MGPE) | 6500 | 9.88kg | View Price |
| mgpe.100 | 114.3x4.5 (100NB MGPE) Mill Galvanised | 114.3 x 4.5 (100NB MGPE) | 6500 | 12.40kg | View Price |
| mgpe.125 | 139.7x5.0 (125NB MGPE) Mill Galvanised | 139.7 x 5.0 (125NB MGPE) | 6500 | 16.90kg | View Price |
| mgpe.150 | 165.1x5.0 (150NB MGPE) Mill Galvanised | 165.1 x 5.0 (150NB MGPE) | 6500 | 20.10kg | View Price |
| MGPE.200 | 219x4.8 (200NB GPE) Mill Galvanised | 165.1 x 5.0 (150NB MGPE) | 6000 | 27.00kg | View Price |
| hgpe.15 | 21.3x3.2 (15NB HGPE) Mill Galvanised | 21.3 x 3.2 (15NB HGPE) | 6500 | 1.48kg | View Price |
| hgpe.20 | 26.9x3.2 (20NB HGPE) Mill Galvanised | 26.9 x 3.2 (20NB HGPE) | 6500 | 1.93kg | View Price |
| hgpe.25 | 33.7x4.0 (25NB HGPE) Mill Galvanised | 33.7 x 4.0 (25NB HGPE) | 6500 | 3.02kg | View Price |
| hgpe.32 | 42.4x4.0 (32NB HGPE) Mill Galvanised | 42.4 x 4.0 (32NB HGPE) | 6500 | 3.90kg | View Price |
| hgpe.40 | 48.3x4.0 (40NB HGPE) Mill Galvanised | 48.3 x 4.0 (40NB HGPE) | 6500 | 4.49kg | View Price |
| hgpe.50 | 60.3x4.5 (50NB HGPE) Mill Galvanised | 60.3 x 4.5 (50NB HGPE) | 6500 | 6.33kg | View Price |
| hgpe.65 | 76.1x4.5 (65NB HGPE) Mill Galvanised | 76.1 x 4.5 (65NB HGPE) | 6500 | 8.12kg | View Price |
| hgpe.80 | 88.9x4.9 (80NB HGPE) Mill Galvanised | 88.9 x 4.9 (80NB HGPE) | 6500 | 10.50kg | View Price |
| hgpe.90 | 101.6x4.9 (90NB HGPE) Mill Galvanised | 101.6 x 4.9 (90NB HGPE) | 6500 | 12.20kg | View Price |
| hgpe.100 | 114.3x5.4 (100NB HGPE) Mill Galvanised | 114.3 x 5.4 (100NB HGPE) | 6500 | 14.80kg | View Price |
| hgpe.125 | 139.7x5.4 (125NB HGPE) Mill Galvanised | 139.7 x 5.4 (125NB HGPE) | 6500 | N/A | View Price |
| hgpe.150 | 165.1x5.4 (150NB HGPE) Mill Galvanised | 165.1 x 5.4 (150NB HGPE) | 6500 | 21.70kg | View Price |
General
Edcon Steel sells a wide variety of round steel Hot Dip Galvanized pipe to all sorts of customers. Pipe or Circular Hollow Sections (CHS) is available in a variety of grades, finishes and materials. All Pipes are in standard sizes or a schedule of sizes. We stock & cut a comprehensive range of these sizes. There is a vast array of types and sizes of pipe for all manner of different applications. Pipe may be referred to as schedule pipe or line pipe and these are based on American Society for Testing and Materials (ASTM) sizes.
Characteristics
Mild Steel pipes or Circular Hollow Sections (CHS) are :
High Strength to weight ratio
Easy to weld and fabricate using standard processes
Lower carbon content
Common ranges are readily available
Large ranges of fittings and accessories available for many applications
Common Applications
Our steel pipes are used for a vast array of applications. Our stock holdings are selected to help you get the pipe you need to get your job done. Typical pipe applications are:
Structural - Columns and Frames
Mechanical - pipe and gas transfer
General Engineering
Furniture
Automotive
Marine
Fencing
Rural and Agriculture
Steel water Pipes
Electrical Poles
Edcon Steel Tips
These pipe sizes are not to be confused with Tube sizes. There are a huge verity of tube also available also at mild steel ERW tube . The easiest way to describe tube would be a thin wall pipe, but the standard sizes will differ from our pipe schedule sizes. Our steel stores are well stocked in Pipe with 350 grade mild steel, 316 Stainless Steel, 6060 Grade Aluminium and brass. All of our stocked Pipes (CHS) can be cut to your requirements, and you can take part lengths or cut pieces while only paying for what you need (cutting charges apply). Our Stores will stock Circular Hollow Sections in the manufactured lengths. The stocked length, as well as the sizes (schedule sizes), will vary according to the material grade. The changes in length may be small, however, we recommend customers do their research on the lengths that their selected product comes in. A small change in the design lengths, can lead to greater product yield and less waste - saving you money.
Electricians Service poles are a common use for our Hot Dip Galvanized pipes . We stock pipes sizes with this in mind and we sell hundreds of these every month. We also have stock of quick-set cement and j-bolts to provide a one stop shop for our electricians.
We stock pre-cut hot dip galvanized fence posts & stay sizes at our Rural Sites please feel free to check out our range here.
We also have many accessories to suit our ranges of Hot Dip Galvanized Pipes. We have plastic caps, metal post caps and a wide range of .
NOTE : Australian Pipe & Tube Mills make very little Hot Dip Galvanized Pipe, it very hard to source and will be expensive compared to imported pipes just because of scale. Most Hot Dip Galvanized Pipes in Australia will be imported from mills in India, UAE, Pakistan or China. Quality & manufacturing standards varies from Mill to Mill. Care needs to taken when sourcing this product for critical applications.
Telescoping
Most Mild Circular Square Hollow Sections will be Electro-Resistance Welded (ERW). This welding process will result in a weld seam. The external weld seam will be scarfed off resulting in a smooth finish on the external face, but the internal weld seam will remain protruding on the internal face of the tube. This is important to any customer who is looking to "Telescope" their Round tube or pipe Section. Telescoping of Circular Hollow tube is common to allow parts to sleeve together or to be extendable with one typically smaller CHS sliding inside a larger CHS. There is a telescoping chart available on our website.
We also have many accessories to suit our ranges of Circular Hollow Section (CHS) we have plastic caps, metal post caps and mild steel base plates to suit our mild steel square hollow sections to enable our customer to make their own posts and columns.
Surface Protections and Coatings
Hot Dip Galvanized Pipe(CHS) products are coated on the external and internal surface by hot-dip galvanizing process resulting in a higher coating thickness than inline processes. The galvanizing process is conducted after manufacture following preparation of the metal surface to produce a fully inter-metallic bonded coating. There will be all the surface variation and colour variation from Hot Dip Galvanizing but the coating will be around 3 times thicker than a "pregal" finish.
Recommended Products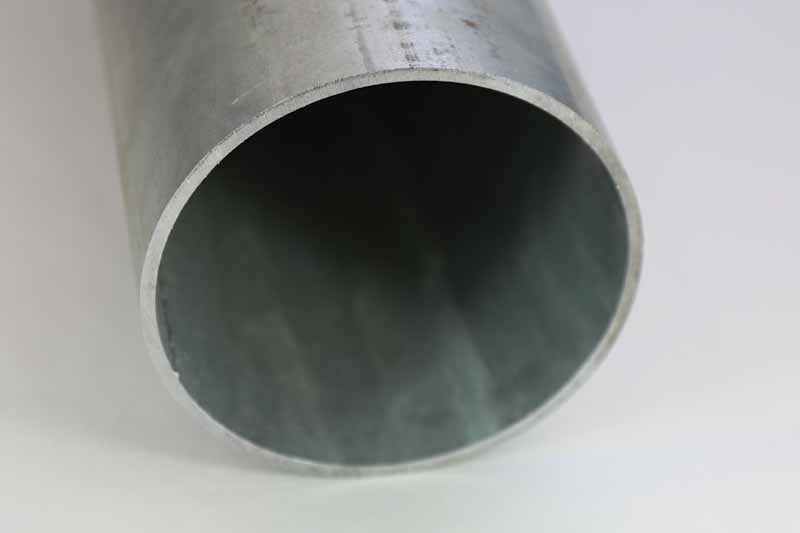 Pipe (CHS)
101.6x4.9 (90NB HGPE) Mill Galvanised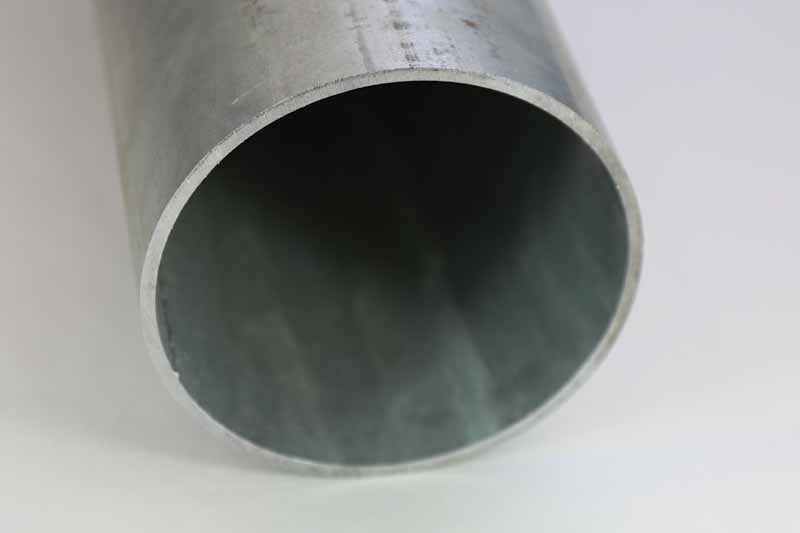 Pipe (CHS)
114.3x3.6 (100NB LGPE) Mill Galvanised
Pipe (CHS)
33.7x4.0 (25NB HGPE) Mill Galvanised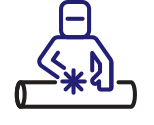 We cut all our steel products to size
You only pay for what you need. Just drop in for on the spot service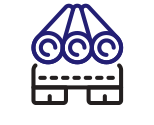 We'll package it securely
Once cut to size, we'll pack it safely so it makes it to you in perfect condition