➤
CHROME BAR ROUND BAR 1045
General
1045 Medium Tensile Steel is a versatile, higher carbon content steel, used extensively in mechanical and machinery applications. The addition of chrome plating makes this a go to product in hydraulic applications, mainly pistons and rams.
Characteristics
AISI 1045 Medium Tensile Steel has high strength, impact and wearing capabilities while retaining good weldability and machining characteristics. This combination of properties makes it a very popular choice for a wide variety of machinery and equipment parts.
Common Applications
There many applications you will find 1045 Chrome Round Bars used in :
cylinders,
Tip trucks,
Fork lifts rams,
Hydraulic & Pneumatic Presses,
Gates and Automatic doors,
Tractors,
Steering systems,
Robotics, Lifts,
Hydraulic platforms,
agriculture attachments,
Heavy duty cylinders,
Cranes,
Drilling equipment,
Garbage compactors.
Edcon Steel Tips
Edcon Steel has good selections of common round bar sizes at certain locations. Please feel free to browse our range online or call you local branch to check availability in your area. We can cut to size 1045 Chrome Round Bar and ship Australia wide (subject to freight options in your area).
Other grades of Chrome Round Bars may be available but as we only stock 1045 Chrome Round Bars. We are not able offer part lengths for grades other than 1045. 4140 High Tensile Steel is also a common grade of Chromed bar. Edcon Steel do not stock 4140 grade Chrome Round Bar, but have access to this product through our extensive network of suppliers across Australia. Please keep in mind when buying 4140
Tolerance on cutting may also be an issue for our customers. All our engineering bar cutting is saw cutting and there will be some variation in the face cut. Edcon Steel standard cutting tolerance is +/- 2mm. Cutting lists and dimensions provided by customers should allow for this tolerance. Further processes will be required to be carried out by our customers to achieve higher tolerances than stated above.
All stocked sizes of 1045 Chromed Round Bar can be cut to your sizes, so you only pay for what you need ( cutting charges will apply ).
Should you have specific requirements or specifications for your project, especially physical properties or tolerances, as well as quality requirements such as mill certificates you should email our sales team or call one of our branches to discuss your requirements prior to placing your order. Without a specific written request no quality documents of any kind will be provided with your goods, please ensure you request this prior to your order to avoid disappointment. Charges may apply to provide mill certs and the like.
Surface Preparation and Coatings
Hard Chrome Plating (typical specs this will need to be confirmed as order if critical to your application)
| | |
| --- | --- |
| Typical Surface Hardness | HV 1000 - 1150 |
| Typical Surface Smoothness | 0.10 - 0.30 um (Microns) |
| Typical Surface Deposit Thickness* | 0.025 - 0.050 mm (0.001") - (0.002") |
*surface deposit thickness will need to checked against your application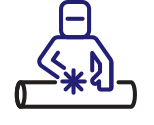 We cut all our steel products to size
You only pay for what you need. Just drop in for on the spot service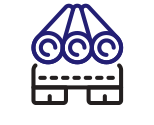 We'll package it securely
Once cut to size, we'll pack it safely so it makes it to you in perfect condition