316 Stainless Steel
General
Where your job requires a greater level of corrosion resistance than 304 Grade Stainless Steel (Furniture Grade) then 316 Grade Stainless Steel (Marine Grade) is the right choice for you. 316 Grade Stainless steel is similar in most respects, with virtually identical mechanical , physical and surface properties as 304 Grade, but with the superior corrosion resistance it should be considered for marine or food processing applications.
Characteristics
316 Grade Stainless Steel should have very low magneticity and has a high tensile strength . Welding of 316 Stainless Steel is possible, but care will be needed to clean welds and areas effected by heat decolourisation from the welding processes.
| | |
| --- | --- |
| Density | 7,900 lg/m3 |
| Tensile Strength | 515 MPa |
| Brinell Hardness | 217 HB |
| Rockwell Hardness | 95 HRB |
Common Applications
316 Stainless steel will be considered in :
Sea Front Building
Piers, wharves & jetties
Boats & Ships
Factories processing chlorides and food products
Edcon Steel Tips
Edcon Steel has 50 years of metal expertise - we're Australia's most comprehensive online steel and metal superstore - so if you need stainless steel in just about any available size, shape, grade or dimension, we can help you.
For decades we've serviced major infrastructure projects - and home handymen. We are here for tradespeople, home builders, renovators... and plenty of others with a passion for metal projects.
Our 316 stainless steel options include angles, bars, boxes, tubes, pipes, plates, welding consumables and a range of accessories. And we cut to size and deliver Australia Wide (subject to your size).
Ready to get started buying stainless steel online? Simply use the selector below for a quote or contact us for advice on the right stainless steel for your project.
Surface Preparation and Coatings
Unlike mild steel the chemistry of stainless steels means the processes and methods for protecting and finishing 316 Grade Stainless Steel are vastly different to mild steels. Most surface finishes for stainless steel will be mechanically (Polishing) or chemically (Passivating) applied. The correct surface finish will have substantial impacts on the performance and appearance of your stainless steel.
One of the most important considerations for the performance and appearance Stainless Steels is cleanliness. Surfaces need to be kept free from particles of other metals especially alloy or carbon steels. Timber also has contaminants that will leech and stain stainless steels.
Due to the variety of finishes available in stainless steels, Edcon Steel strongly recommends you discuss your requirements with your designer or fabricator.
All Steel | All 316 Stainless Steel | All 304 Stainless Steel | 316 Stainless Steel Sheet No. 4 Polished | Home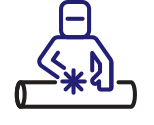 We cut all our steel products to size
You only pay for what you need. Just drop in for on the spot service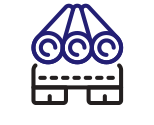 We'll package it securely
Once cut to size, we'll pack it safely so it makes it to you in perfect condition