➤
1020 Bright Mild ROUND BAR 1020
General
Bright Mild Steel (BMS) Round Bars can be substituted for hot-rolled or forged steel (Black steel) Round Bars. Characteristics include improved surface finish, enhanced mechanical properties and better machinability arising from cold drawing or cold rolling. Bright Mild Steel is used extensively in the engineering and construction industries and has multiple applications.
Characteristics
Bright Mild Steel (BMS) steels are widely used where high machinability is not required. BMS can be referred to as Merchant Quality Steel that is a traditional "mild steel" but with superior surface finish.
Common Applications
Bright Mild Steel (BMS) Round Bar is used widely in the machining and engineering industries, BMS can be cut, formed & bent, threaded, drilled and welded for use in :
Automotive Applications
Axels & Shafts
Hinge & Pins
Basic Threading Applications
Edcon Steel Tips
1020 or M1020 grade Bright Mild Steel (BMS) is typically our stocked grade, 1030 and 1040 may be available subject to enquiry, but we will normally stock 1020 grade.
Edcon Steel has good selections of common Round bar sizes at certain locations. Please feel free to browse our range online or call your local branch to check availability in your area. We can cut BMS Round Bar to your sizes and ship Australia wide (subject to freight options in your area).
Other grades of Round Bars are available you might want to consider Mild Steel 300 Plus Grade Round Bars, 316 Stainless Steel Round Bars, Aluminium Round Bars
Tolerance on cutting may also be an issue for our customers. All our engineering bar cutting is saw cutting and there will be some variation in the face cut. Edcon Steel standard cutting tolerance is +/- 2mm. Cutting lists and dimensions provided by customers should allow for this tolerance. Further processes will be required to be carried out by our customers to achieve higher tolerances than stated above.
All stocked sizes of BMS Bar can be cut to your sizes, so you only pay for what you need ( cutting charges will apply ).
Should you have specific requirements or specifications for your project, especially physical properties or tolerances, as well as quality requirements such as mill certificates you should email our sales team or call one of our branches to discuss your requirements prior to placing your order. Without a specific written request no quality documents of any kind will be provided with your goods, please ensure you request this prior to your order to avoid disappointment. Charges may apply to provide mill certs and the like.
Surface Preparation and Coatings
BMS is a Cold Drawn or Cold Rolled finish. This results in lower permissible depth of surface imperfections for bright bar and will be free of imperfections of hot rolled origin. Australian standards do not specify surface roughness, however, as a guide cold drawn bars have 0.1-0.8 mircons Ra.
All Steel | All Bright Mild Steels | All Free Machining Bright Steel Round Bars | Home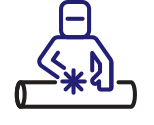 We cut all our steel products to size
You only pay for what you need. Just drop in for on the spot service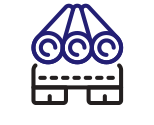 We'll package it securely
Once cut to size, we'll pack it safely so it makes it to you in perfect condition