Steel
Here at Edcon, we live and breathe steel… and we have for over 50 years. We will cut steel to size, so you will only pay for what you need on just about all stocked items. Great for small jobs or when you get caught short on a large job!
We've spent years getting to know the construction, engineering, infrastructure, automotive, farming and marine markets and have developed our stock range to suit you - our customer. We service everyone from major construction, schools & students as well as weekend warriors with all sorts of remarkable projects.
With a huge range of steel across Sydney and the NSW Central Tablelands plus Australia's most comprehensive selection online - we have you covered with steel in pretty well every shape, grade and dimension available. Cut to size and delivered across Australia (limited on large orders)
If you're ready to buy steel online, browse our range online or call 1300 233 266 and we'll help you get the right steel at the right price for your next project.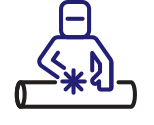 We cut all our steel products to size
You only pay for what you need. Just drop in for on the spot service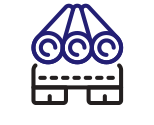 We'll package it securely
Once cut to size, we'll pack it safely so it makes it to you in perfect condition