➤
304 Stainless Steel Round Bar Stainless - 304 Mill Finish
General
304 Grade Stainless Steel Round Bars are circular shaped solid stainless steel bars which can be used in all manner of engineering and fabrication applications. Our branches have access to stock from a wide range of stainless steel suppliers. All these 304 Stainless Steel round bars can be cut to your sizes, but as we do not normally stock 304 Grade Stainless Steel, you will need to purchase the full length as stocked by our suppliers.
Characteristics
The majority of 304 stainless steel round bars will be cold rolled mill finish, this is a low tolerance finish bar. Your application may require certain special properties or tolerances for your round bar please be sure to specify your requirements prior to placing your order.
Common Applications
304 Grade Stainless Steel Round bars have a huge range of applications, they can be cut, formed & bent, threaded, drilled and welded for use in :
Architectural Applications
Chemical Environments
Axels & Shafts
Grills & Grates
Screens
Security Grills
General Engineering
Edcon Steel Tips
There are a variety of 316 Grade Stainless Steel Round Bars also available also at 316 Grade Stainless Steel Round Bars. Our steel stores are well stocked in tubes in Hot Dip Galvanised Mild Steel Round Bars and Free Machining Aluminium Round Bars .
Although changes in length may be small, however, we recommend customers do their research on the lengths that their selected product comes in. A small change in the design lengths, can lead to greater product yield and less waste - saving you money.
As we only keep 316 Grade Stainless Steel in stock, will cut and supply full lengths. If you require smaller pieces, we recommend purchasing 316 stainless steel, which we keep in stock and sell in smaller pieces.
Please review our 316 Grade Stainless Steel sizes here and all items can be customised and quoted online 24 hours a day 7 days a week.
Surface Preparation and Coatings
Unlike mild steel the chemistry of stainless steels means the processes and methods for protecting and finishing 304 Grade Stainless Steel are vastly different to mild steels. Most surface finishes for stainless steel will be mechanically (Polishing) or chemically (Passivating) applied. The correct surface finish will have substantial impacts on the performance and appearance of your stainless steel.
One of the most important considerations for the performance and appearance Stainless Steels is cleanliness. Surfaces need to be kept free from particles of other metals especially alloy or carbon steels. Timber also has contaminants that will leech and stain stainless steels.
Due to the variety of finishes available in stainless steels, Edcon Steel strongly recommends you discuss your requirements with your designer or fabricator.
All Steel | All 304 Grade Stainless Steel | All 316 Grade Stainless Steel Round Bars | 4140 High Tensile Round Bars | Home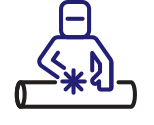 We cut all our steel products to size
You only pay for what you need. Just drop in for on the spot service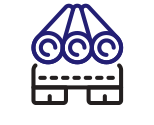 We'll package it securely
Once cut to size, we'll pack it safely so it makes it to you in perfect condition