➤
➤
Mild Steel Round Bar Hot Dip Galvanised
| Stock Code | Description | Dimensions (mm) | Standard Length (mm) | Kg per Unit | |
| --- | --- | --- | --- | --- | --- |
| grnd.10 | 10.0mm Mild Round Hot Dip Galvanised | 10 | 6000 | 0.68kg | View Price |
| grnd.12 | 12.0mm Mild Round Hot Dip Galvanised | 12 | 6000 | 0.97kg | View Price |
| grnd.16 | 16.0mm Mild Round Hot Dip Galvanised | 16 | 6000 | 1.73kg | View Price |
General
Round Bars are circular shaped solid steel bars which can be used in all manner of construction and fabrication applications. Currently we have stocks of Hot Dip Galvanized at selected branches and in limited sizes, these sizes are selected for common building applications. All these stocked hot dip galvanized mild steel Round bars can be cut to your sizes with no minimum size, so you only pay for what you need*. (* limits and cutting charges will apply)
Characteristics
These galvanized Round bars will be dipped in full lengths. Cutting of this stock will result in the breaking of the galvanized finish and this should be retreated with some type zinc rich paint to protected the unfinished face. If you require certain special lengths for your Round bar please be sure to specify your requirements prior to placing your order and we can send you cut Round bars away for Hot Dip Galvanizing after cutting.
Common Applications
Mild Steel Round bars have a huge range of applications, they can be cut, formed, drilled and welded for use in :
Grills & Grates
Dowels
General Engineering
Furniture
Automotive
Edcon Steel Tips
Stock holdings will vary branch to branch, so be sure to contact your nearest branch before heading in to pick up this item.
Treatment of cut ends should be considered as the cutting process will break the galvanising protection of the steel.
Surface Preparation and Coatings
This product is hot-dip galvanised in accordance with the Australian Standard for Hot-dip Galvanised (zinc) coatings on fabricated ferrous articles (AS/NZS 4680) both inside and outside. For further information about Hot-Dip Galvanizing process is here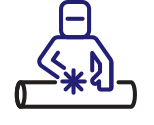 We can cut most of our steel products to size
Cropping, coldsawing, bandsawing & guillotining in house at all of our steel stores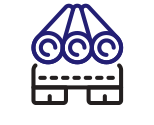 We'll package it securely
Once cut to size, we'll pack it safely so it makes it to you in perfect condition